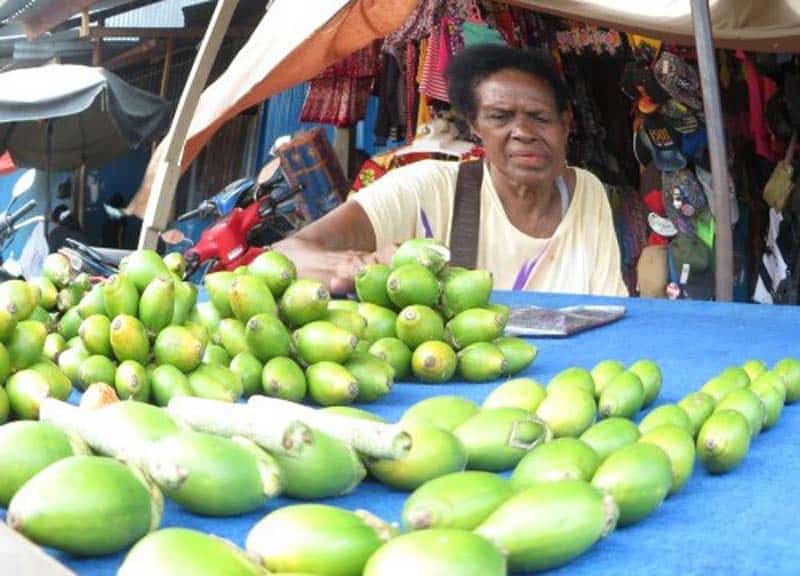 Papua, Jubi – The COVID-19 outbreak has emerged a new dilemma for everybody. On the one hand, they should restrict their activities, but on the other hand, they have to work to get income for their families.
A consumer Delia Mallo said she is very concerned about Papuan women traders at Pharaa traditional market in Sentani, Jayapura Regency during the pandemic.
"It's so sad to see them should go home early while not many people could come to buy their commodities," Mallo said when shopping in Pharaa Market on Thursday (25/6/2020).
The restriction during the pandemic made the traders go home earlier than usual, and people's concern about the coronavirus transmission has increasingly impacted on the traders' income.
"Since the emergence of COVID-19, I am worried (to stay longer in the market). After buying fish, I immediately go home," said Mallo.
Because they have to go home early, traders reduce the price of their commodities to prevent substantial loss because of rot.
Tilapia fish, for example, is priced at half of its regular price. The fish harvested from Lake Sentani is usually sold for Rp 80 to 100 thousand per pile, but now sold for only Rp 40 to 50 thousand per pile. Each pile can weigh more than 1 kilogram.
"To be sold, so we just let it go at a low price. The important thing is we can still get money for trading tomorrow," said Anace Suebu.
Mrs Suebu displayed her fish on a 2 x 3 meters table at the Pharaa Market, and her income has significantly decreased since the COVID-19 pandemic. "I could usually take Rp 1 million a day before the pandemic, but now it's crushed," she said.
As a result, she also needs to restrict her purchase. She could no longer be able to buy fish at large quantities. Her income has significantly declined, while she still has to continue spending money for daily needs.
"I told my customers to be patient. I cannot buy fish at large quantities because I don't have sufficient money," said the mother of four.
New Dilemma 
The new dilemma that emerged due to the COVID-19 is not only happening to Suebu but also hundreds or even thousands of Papuan woman traders. Their economy has suffered due to the pandemic.
"I used to bake (sell) twenty pieces of bread, but it's only 15 now for Rp 15 thousand per piece," said Karolina Fonataba who usually sells bread in the Pharaa Market.
During the beginning of the COVID-19 pandemic, Fonataba, a woman of Biak Numfor, had moved her business to the former Doyo Baru Market. She did it to cope with the restriction rule applied in Jayapura Regency. Because she lives near the market, she can adjust her trading time. Also, she adds another commodity to sell, namely sago, which she sold for Rp 10 to 20 thousand per piece.
"Relying on the income from selling bread is not enough (for daily needs)."
However, she could not stay longer in the new location and decided to return to the Pharaa Market by selling the same commodities, bread and sago.
"In the former Doyo Baru Market, there were even fewer consumers. It was only 5-10 pieces of bread sold (every day)," told this sixty-five years old woman.
Although she has added the items of her commodities and returned to the Pharaa Market, her income is still far lower than in the usual time. "I could get Rp 150-200 thousand in the past, but now it declines to Rp 50-100 thousand, while a sack of sago usually sold out in three days, but now it takes a week."
To survive during the pandemic, Fonataba has attempted various ways. "I also deliver (sell) the bread from door to door. The customers can pay whenever they can."
In the meantime, Mariche also applied a similar strategy of survival during the COVID-19 pandemic. She sells betel nuts at the former Doyo Baru Market. "Although people say the COVID-19 is dangerous, I keep selling. If not, we cannot eat."
However, Mariche, a woman from Demta, has to deal with her stock purchase to avoid loss. "I used to buy 2-3 sacks, but now it's reduced. I run out of money, while fewer customers come to buy."(*)
Reporter: Yance Wenda
Editor: Pipit Maizier