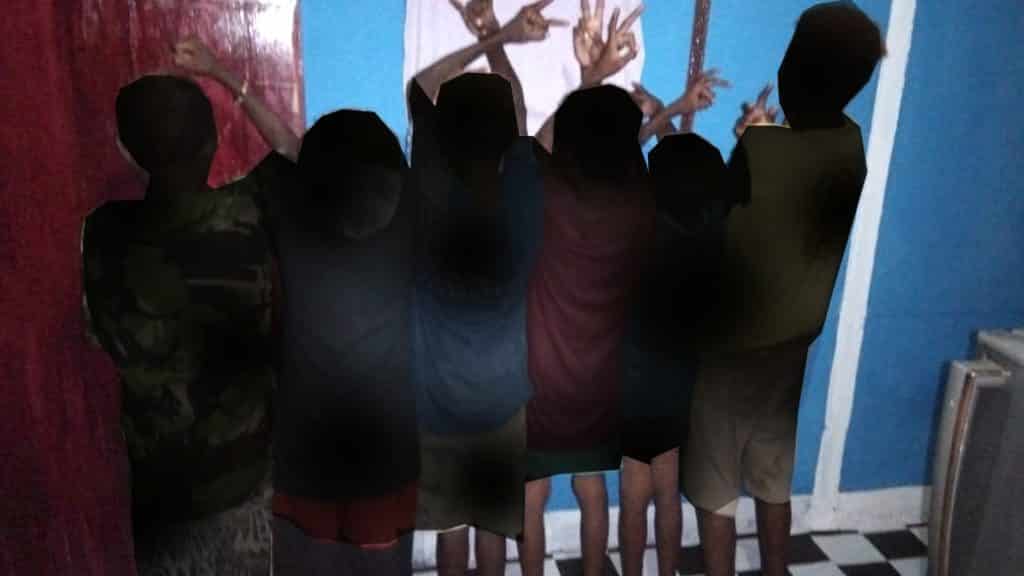 Glue-sniffing among children has been a critical issue in Papua. For example, in Merauke Region, it is estimated that 90 children have addicted to glue-sniffing. It becomes a concern of local communities and government to address this issue and help the children.
Jubi, therefore, conducts special report on efforts to rehabilitate the addicted children to not dropping more deeply in this behaviour. Glue-sniffing addicted would not only affect the health of the children but their future as well.
To start the journey, Jubi comes to see Polikarpus Boli at his rented house in Merauke. Boli is the carer of dozens of school-aged children who addicted to 'aibon' glue-sniffing.
We meet with five children sitting in his living room. At first glance, they look not being well-taken care, not taking a bath so often, messy long hair and wearing shabby clothes. Their physical appearance also looks alarming, very slim. After questioning, they all admit to having addicted to 'aibon' glue. Aibon is glue product brand which now refers to all similar glue products used for sniffing.
"Castol".
Jubi then sits with these five children and asks them some questions. However, none of them wants to tell how long they have addicted to glue-sniffing. Among them, three want to answer every asking question, while two others keep silence.
Those who answer the questions are a boy of 12 years old and two boys of 10 years aged. From our conversation, it reveals that these five children were pupils in a public elementary school in Merauke, but they refuse to tell why did they drop out of school.
They say that they prefer to go hunting used cans and scrap metals to sell to collectors and use money generated from the sales to buy some glue at nearest kiosks or retailer shops. For illustration, the price of a Castol brand glue is Rp 13,000, and a small-sized of Fox glue is Rp 10,000, while a large-sized of Fox glue is Rp 50,000.
"Usually, three or four of us put our money together to buy some glue because it is very expensive. Then we share it into small portions by pouring it into a used mineral water bottle that cut into a small-size," said a twelve years old boy.
Then they hide the glue in a used mineral water bottle under their clothes and sniff it secretly.
"Sometimes we sit in a group and sniff the glue, but sometimes we do it alone," he said.
According to him, they can buy the adhesive twice a day, because it would run out quickly after being repeatedly inhaled.
"If we buy it in the morning, it will run out in the afternoon after being sniffed. So, once again, we put our money and buy that stuff. We inhale it before we are going home in the evening," he said.
Meanwhile, a ten years old boy also has a similar comment.
"Our parents are living here (in Merauke), but they do not know if we often sniff glue. They merely hear from someone else. When we are going home, they hit us with a stick," he said.
These boys admit that they often got dizzy by doing this activity. When glue runs out, they even feel their epigastrium hurts. But it is only for a moment. After that, they will continue to buy and inhale it. They also say that they do not know when will they going to stop sniffing this substance because already addicted.
Meanwhile, Polikarpus Boli has become a carer for glue-sniffing addicted children in Merauke for more than five years. He works with a program initiated by Sergius Womsiwor at One-Roof Integrated High School of Wasur.
According to Boli, in 2019, there were 90 children in Merauke reportedly addicted to glue-sniffing. The data compiled from the community report to the school.
"Meanwhile, in 2020, we have not done the survey yet. So, we do not know whether it has declined or increased," he said.
However, Boli estimates the number of glue-sniffing addicted children in Merauke is more substantial than compiled in the document; it might be hundreds.
"We face difficulty to find out the exact number. I compiled data of 90 addicted children after asking them some questions and getting around to some locations where they used to gather for sniffing glue," he said.
According to Boli, it would take a long time to stop the detrimental habit chain among these children. "I always say this during the lesson in school every afternoon," he said.
I always say this during the school lesson every afternoon," he said.
Besides, provide awareness at school, Boli also come to the houses where the children live with their parents near the area of Pintu Air, Maro Village. He told their parents about the dangers of their children's habit.
"The point is I tell them about the effect of glue-sniffing for their health because this substance is not designed for humans to inhale," he said.
The rise of the number of children sniffing glue in Merauke has driven a concern among some residents to establish Forum Peduli Penyalahgunaan Lem (Glue-abused Care Forum/FP2L) in Merauke.
FP2L Deputy Chair Ana Mahuze told Jubi about their finding. It records in their database that there are around 47 children identified as glue-sniffing addicts in Merauke. (To be continued)
Reporter: Ans K
Editor: Pipit Maizier