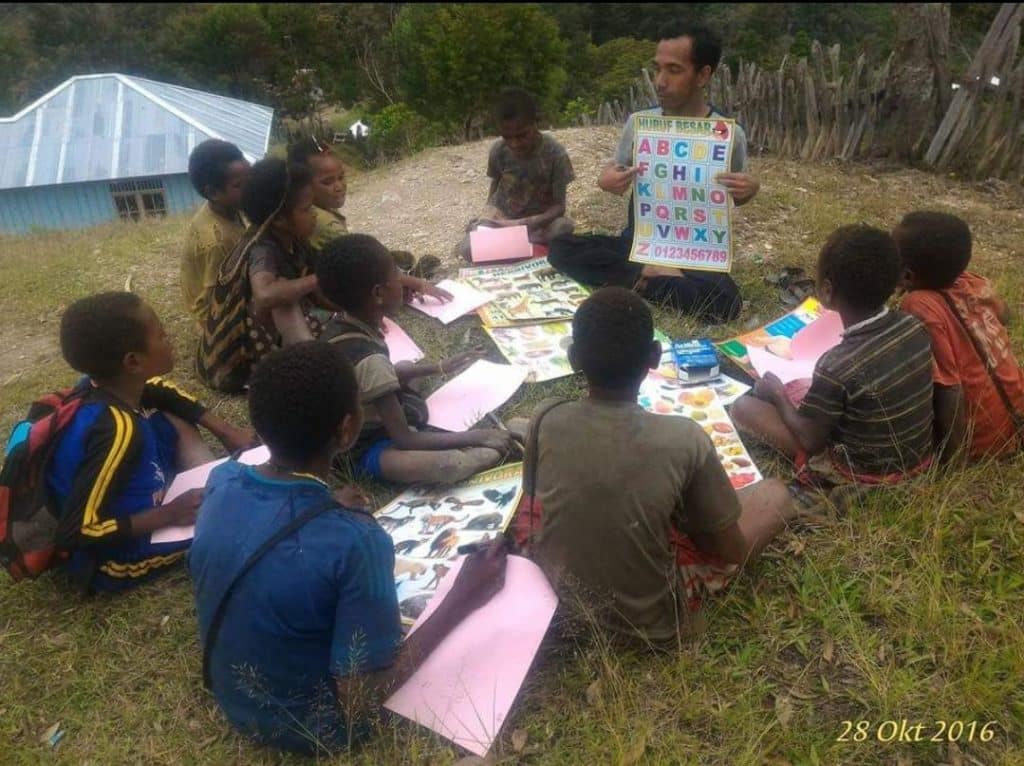 Nabire, Jubi – "I consider Zaki like my son in my house, and now I lost him," Oktovianus Malatuni told Jubi in Nabire on Monday, 6 July 2020.
Malatuni is the Head Division of Pedagogy and Educational Staff Development of Intan Jaya Regency, Papua Province.
He said that he has considered that Muhammad Zaki and his fellows under the GPDT program of Gadjah Mada University who came in Intan Jaya since 2016 like his own children.
"They came to my house, and were free to eat, drink, like my own children," he said. Therefore, when Zaki got ill, Malatuni and Zaki's friends always took care of him until he died.
"Because Zaki was the best teacher who always paid great attention to education, especially in Intan Jaya, Papua," he said.
For this reason, Malatuni admitted he was angry and rude to medical workers in the Nabire Public Hospital where Zaki was treated.
"Because he was my child, and if there was no social restriction, we planned to refer his medical treatment to another hospital with complete facilities in Jayapura or other places. But it does not mean we underestimate the local hospital in Nabire, we just wanted the best for him," said Malatuni.
Muhammad Zaki arrived in Intan Jaya with other 41 teachers under the GPDT Program of the Gadjah Mada University. Those selected teachers were then assigned to teach in different schools, and Zaki was teaching in Mbiandoga Primary School, Mbiandoga Sub-district.
According to Malatuni, Zaki's performance was outstanding. Besides training by the Gadjah Mada University and the Education Office of Intan Jaya Regional Government, he also had experience in teaching in Aceh.
Therefore, his previous experience as a teacher, said Malatuni, helped him to assess what aspects need to improve in regards to education in Intan Jaya.
"Besides teaching, he also acted as a school operator, in which he did not need any guidance in implementing his tasks," said Malatuni.
He further thought that Zaki's competence had influenced other teachers under a similar program. They were capable of adapting immediately with the local habits and environment. At the end of their contract, all GPDT teachers, including Zaki, submitted their report on their lesson learned during their assignment to the Education Office of Intan Jaya Regency for evaluation.
At the end of their contract in 2018, the Education Office through the Division Head of Pedagogy and Educational Staff Development offered these contract teachers whether they want to return or continue to teach in their school. Zaki did not accept the offer immediately, but at another time, he said he wanted to continue teaching in Intan Jaya. As the division head, Malatuni needed to assure it.
"Zaki said, 'Bapak, I still want to return to Intan Jaya, but here (Nabire) is my home'," he said.
Malatuni was happy to hear it because Intan Jaya needs additional teachers, especially the one with good capability like Zaki. Therefore, together with some friends, Zaki decided to stay in Intan Jaya as contract teachers.
"Zaki, I love him. He called me 'Bapak' and my wife 'Mama'. He called me 'Pak' only on a formal occasion. He was very tolerant and befriended with everyone disregard their ethnicities, religions, or races, although he was Muslim among majority Christians. He had a good ability to adapt to his surroundings," said Malatuni.
Zaki was also a hard worker, added Malatuni, who showed his ability through his works. He started with organising school administration to establish a library for children at his school and a literacy group in Intan Jaya.
"It included the library for children "Mbiandoga Cerdas" and a literacy group "Ombo Pustaka" which he worked together with his friends, and book shipping to Intan Jaya. Their work for literacy in Intan Jaya was outstanding," he said.
What Zaki and his friends have done in Mbiandoga Primary School, said Malatuni, was a great achievement. "Honestly, as the Division Head, with the school principal, other teachers and I, we lost him very much. We will always pray for him to be with God and all the mistakes he made during his life were forgiven," said Malutuni. He looked sad. (END)
Reporter: Titus Ruban
Editor: Pipit Maizier