By: Yamin Kogoya
West Papua No.1 News Portal | Jubi
Racially charged attacks against well-known Papuan human rights activist, Natalius Pigai, have been reported to the police and have opened another discussion to a recurring issue affecting the relationship between Jakarta and Papua.
Natalius Pigai was born in Paniai, Papua, on Dec. 25, 1975. He is a prominent Papuan human rights activist in Indonesia – a well-known public figure who has previously held several key positions in the country's highest offices: Special Staff of the Minister at the Ministry of Manpower and Transmigration of the Republic of Indonesia from 1999 to 2004; one of the eleven members of the National Human Rights Commission from 2012-2017; private investigator and consultant in the fields of business and human rights in both foreign and domestic companies.
Read also: Racism against Papuans: National Police investigate reports on attacks against Natalius Pigai
When it comes to debate on any human rights related issues on national television and media in Indonesia, Natalius Pigai is not one to shy away from speaking his mind. He will beat you with his sharp spirit, mind, and tongue. Reading thousands of social media comments following a debate on national issues involving Pigai, one will quickly notice how opinion of him across Indonesia is divided.
Some praise Pigai for keeping the Indonesian government on their toes, defending the rights of ordinary people; others blame him for undermining Indonesia's national interests. Pigai's entire identity – coming from a region where some of the most horrific human rights violations have been committed by Indonesian security forces – creates a nightmare for Indonesian elites in Jakarta. He is the voice of the Papuan people in Indonesia's capital – Jakarta.
The attack on Natalius Pigai
Ambroncius Nababan, former chairman of a volunteer group supporting President Joko Widodo, posted a picture of Pigai next to a picture of a gorilla on his Facebook.
A translation of Nababan's comment reads the following: Ouch… mate, your vaccine is not Sinovac mate, but your brother [Gorilla] said your vaccine is rabies. I agree, mate. The photo that he posted has a gorilla saying to Pigai, "Our vaccine is not Sinovac, but a rabies vaccine," implying that Pigai and the gorilla are brothers and hence should both receive a non-human vaccine.
Read also: Covid-19 vaccination for health workers in Papua runs at slow pace
It is alleged that these racial slurs and images were displayed on Ambroncius' Facebook page, in retaliation to Pigai's earlier comment on Jokowi's government plan to roll out Sinovac Biotech's Covid-19 vaccine.
Natalius Pigai stated that Indonesian citizens have the right to reject the vaccine. This right, he stated, is protected, and guaranteed under the country's constitution. He further explained on his Twitter account that the people's right to refuse vaccines is regulated in the country's Health Law: No. 36 of 2009, Chapter 2 on Rights and Obligations. In Section 1 of the rights of Article 5, paragraph 3 reads: "Everyone has the right to independently and responsibly determine his health services that are necessary for him/her."
"So, people have the right to reject vaccines," said Pigai as reported by suara.com, Jan. 12.
Apparently, Pigai's comments were not received well by Nababan, who decided to respond to Pigai's statement by posting his image next to a gorilla, complete with racist commentary.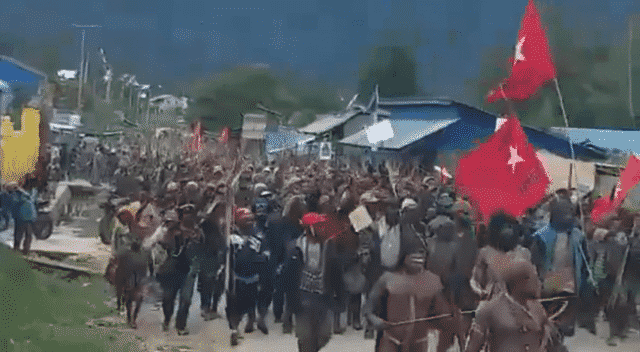 Whatever lens one might use to view this situation – whether inconsequential, or spur-of-the-moment – for Papuans, it emerged out of deep problems, like an ooze of pus from the infected wounds in the relationship between Papuans and Indonesia.
They emerge out of a particular history, time, and place – a long history of colonization, genocide, and slavery inflicted upon people of colour all over the world; a history justified by racial, hierarchical categorisation, introduced by the European colonial administrations over the past five hundred years.
Read also: Racial discrimination and human rights abuses are a reality in Papua
Often, we think that these kinds of behaviours are inevitable due to cultural differences. While this is often the case, racism against black people is uniquely different because it is almost exclusively based on the colour of their skin.
This is similar to what happened to Barack Obama when he became the first African American President of the United States of America on Nov. 4, 2008. Obama and his family were constantly under racial attack on social media. Images of the Obama family were compared to monkeys or depicted as such.
Most of us are aware that in a world of politics, all kinds of mockery and harassment are thrown about by opposing parties. In most cases, these are tolerable (in most democratic countries). But racially denigrating imagery and language runs deeper than the usual personal attacks, opening deep wounds in the body of a nation and a race of people that is systematically oppressed largely because of their race and ethnicity.
For Nababan, his comments may have been inconsequential in his eyes, and a simple apology might do the trick to heal the situation. But for Papuans, these types of comments continue to rub salt into old and fresh wounds, and an act of justice is needed to begin the healing process.
Read also: The origin of Indonesian racism towards Papuans and its implication to a Free West Papua Movement
The UK-based West Papua independence leader, Benny Wenda, strongly criticized Nababan's comments by saying, "this is racial ethnic cleansing, a genocidal fantasy at the highest levels of the Indonesian state," as reported by the Morning Star News and Asia Pacific Report.
Wenda's words, racial ethnic cleansing, are reflected from statements made by a few Indonesian army generals in the past, regarding their plan of how to "deal" with Papuans and inferring that they are some sort of pest problem that should be eliminated from their own native lands.
Here are some of the statements made in the past about the removal of Papuans: In 1963, General Ali Moertopo said the Papuan people should be transferred to the moon; in 2016, General Luhut Panjaitan said the Papuans should be transferred to the Pacific; in 2019, Papuan students were called "monkeys" and told to "go home"' in 2021, Gen. Hendropriyono said in a video interview that two million Papuans should be transferred to Manado in Sulawesi.
Such extreme genocidal views on Papuans from the top military generals in Indonesia convinced Papuans to be skeptical of any policy introduced by Jakarta for West Papua.
The leader of the opposition, Hon. Matthew Wale, from Solomon Islands said, "this revelation confirms the evil legacy that has been passed on from generations of Generals within the Indonesian military force."
Nababan's racist comments align with the beliefs of the Indonesian military's views of Papuans, therefore it does not seem problematic to them. Nababan stated in his apology that, "its nature was satirical. It was not intended to insult people, let alone insult ethnicity, religion, or the Papuan people," as reported by the Union of Catholic Asian News.
For Papuans, comments such as these are the crux of infectious diseases that claimed more than 500,000 Papuan lives and led to the destruction of their homeland. This insult, following the mass demonstration, cuts deep in the heart of Papuans.
Furthermore, such commentary is not simply random – it emerges from a deep genocidal state conspiracy that regulates the way elites in Jakarta view Papuans. A view which Benny Wenda believed to be "racial ethnic cleansing". https://morningstaronline.co.uk/article/w/west-papuan-leader-demands-end-genocide-his-people-after-latest-racist-remarks
How does this impact the relationship between Papuans and Indonesians?
Psychologically, these kinds of racial slurs create further trauma for Papuans, as Indonesians continue to denigrate the humanity of Papuans. Conversely, this traumatic incident will serve as a platform for Papuan's collective cry for Independence from Indonesia. It will unite diverse Papuan groups, and they will galvanize support from across the black and nonblack world, from Oceania to Africa, from Caribbean to North and South America.
History demonstrates that communities and nations around the world have revolted against the mistreatment of people in some form or another. It was such inhumane mistreatment that unified black slaves to revolt against the French in Haiti in 1804. It was the same race-based mistreatment of the local indigenous population that triggered most of the violent revolution that erupted in Africa, Asia, the Middle East, and Oceania after the second World War.
It was racism that electrified millions of people who took to the streets in solidarity of George Floyd under the slogan "Black Lives Matter", despite the Covid-19 lockdown in 2020.
If anything, outraged and angry Papuans who set buildings on fire across West Papua after Surabaya's racial-related incident in August 2019 should have been a significant message to Indonesia about how deep this racist scar has been cut into the body of the Papua nation.
It is no longer only Papuans who stand in a fight against racism here – many Indonesians are also standing in solidarity with Papuans. In response to the racist attack on Natalius Pigai, the Association of Batak Community in Papua (an ethnic group from North Sumatra, which Nababan himself belongs to) condemned Nababan for his racist social media post and urged authorities to provide justice for his heinous actions.
On Tuesday Jan. 26, the president of the association, Kenan Sipayung, stated that, "what Ambroncius Nababan did is obviously an unlawful act that has made the Bataknese people in Papua, who have coexisted peacefully and harmoniously with those from the Papuan communities, anxious."
Mahfud MD, the coordinating minister for political, legal, and security affairs, also criticized Nababan, tweeting, "if you do not like someone's views, don't insult them with derogatory statements or animal pictures."
Kalau Anda tak suka dgn statement atau tudingan seseorang yg Anda anggap ngaco, tak usahlah menghinanya dgn cacian atau gambar hewan. Diamkan sj. Ada ungkapan, "tarkul jawaab alal jaahil jawaabun", "Tdk menjawab statement atau tudingan org dungu adalah jawaban thd org dungu tsb".

— Mahfud MD (@mohmahfudmd) January 24, 2021

The former Chief Justice of the Constitutional Court, Hamdan Zoelva, said that, "racist attitudes should not be allowed. This is not Indonesian culture. Indonesian ancestors weren't racists, mutual respect is the true cultural value of Indonesians. This imported racist attitude and culture should not be allowed. The police must act immediately to enforce the law."
Sikap rasis, bukan budaya Indonesia. Sejak zaman nenek moyang Indonesia tidak mengenai rasis, bahkan sikap saling menghormati adalah sikap asli bangsa Indonesia. Tidak boleh sikap rasis yang impor ini dibiarkan. Polisi harus segera bertindak lakukan penegakkan hukum.

— Hamdan Zoelva (@hamdanzoelva) January 26, 2021
Despite these condemnations against racism in Indonesia, ordinary Papuans still suffer from racism throughout Indonesia without these acts being broadcast by the media. You simply won't see it make headline news. Nevertheless, cases like Pigai's will spotlight the systematic racism that Papuans face every day in Indonesia. It is a deep wound on the Papuan body and spirit, caused by decades of neglect, abuse, and inhumane treatment at the hands of Indonesia, enabled by the complicity of the UN and Western Governments.
To address these old wounds, a mere word of apology, such as that expressed by Nababan, cannot fix the underlying issues and is superficial at best.
Papuans need justice. Although Papuans have not yet achieved justice through full independence, Jakarta can still help deliver justice to Papuans by how sincerely they handle people such as Nababan.12 It is vital that Indonesian leaders do their job thoroughly and professionally, not just for Papuans, but for the integrity of the Indonesian state.
Read also: Thousands of Papuan joins the rally condemning racism
Nababan's behavior can be an opportunity for Indonesian leaders to show the world what they stand for. The former Chief of Justice of the Constitutional Court, Handan Zoelva, alluded that racism is not a part of the original Indonesian cultural value, that it was "imported", and hence must be condemned.
If there is any truth to Zoelva's words, why then are Papuans still treated as less than human? It seems negligible whether Nababan's racial slur was merely harmless, spontaneous commentary or the tip of the iceberg of a much larger evil pervasive in Indonesian treatment toward Papuans – because unless action is taken and justice is restored, the Indonesian government will have shown that they do not care either way what is happening in their country, to their people.
The disease that continues to thwart the relationship between Indonesia and Papuans is alive and thriving. Papuans are waiting for justice to be delivered for the denigrating, racist attack on Natalius Pigai and the Melanesian people of West Papua.
Yamin Kogoya is a West Papuan academic who has a Master of Applied Anthropology and Participatory Development from the Australian National University. From the Lani tribe in the Papuan Highlands, he is currently living in the Gold Coast, Queensland, Australia.